Los Angeles Drama Critics Circle Winner: Best Featured Performance (Shawn Lee).
4 LA Weekly Award Nominations: Production of the Year, Best Ensemble Performance, Best Play Writing (Matt Pelfrey),
Best Direction (Dámaso Rodriguez).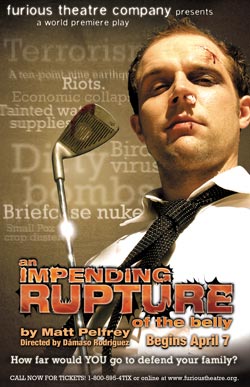 FEATURING

Eric Pargac

Aubrey Saverino
Doug Newell
Shawn Lee
Troy Metcalf

PRODUCTION TEAM

Director -
Dámaso Rodriguez

Assistant Director -
Shawn Lee
Production stage Manager -
Nick Cernoch

Stage Manager -
Katie Davies
Set Designer - Dan Jenkins
Lighting Designer -
Christie Wright
Sound Designer - Cricket Strother Myers
Costume Designer - Christy Hauptman
Hair and Makeup - Christa McCarthy Production Manager -
Vonessa Martin
Fight Choreographer - Brian Danner
Marketing and Publicity - David Elzer/
DEMAND PR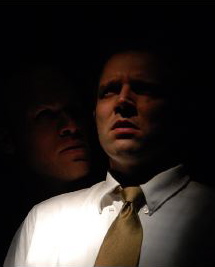 Doug Newell and Eric Pargac.
Photo by Anthony Masters.
View Slideshow



WORLD PREMIERE
AN IMPENDING RUPTURE OF THE BELLY
Written by Matt Pelfrey
Directed by Dámaso Rodriguez

April 7-May 12
EXTENDED thru June 9!

How far would YOU go to defend your family?  AN IMPENDING RUPTURE OF THE BELLY concerns Clay Stilts' desire to fortify his house in preparation for both a new baby and the apocalypse he's convinced is just around the corner.  Clay worries about so many things, nuclear terrorism, avian bird flu, killer earthquakes, riots, small pox crop dusters flying over Dodger Stadium.  His obsessions are sidetracked when a slowly escalating battle with a neighbor who refuses to curb his dog explodes in an impulsive act of violence.  In one reckless moment, Clay's world spins out of control, becoming a microcosm for a global struggle against threats to our security, both real and imagined.

---

Critic's Pick!
"Galvanizing black comedy!"
"Powerful new play!"
"Powered by up-to-the-minute relevance, Furious Theatre Company's premiere staging of Pelfrey's thought-provoking work is mesmeric from the first moment to the last."
"Infused with imagery too haunting to dismiss!"
-Back Stage West

Recommended!
"Pelfrey's gripping, funny play is mounted with hilarious ferocity"
"captures the crippling anxiety of uncertain times
in a staging as droll as it is dire."
"finely-tuned cast"
-Los Angeles Times

"Thank God for the Furious Theatre Company."
"Just when I was starting to despair about lackluster theatre,
here they are with the sort of thoughtful-yet-visceral play that grabs you for its 90-minute running time and doesn't let go until long after you've left the theatre."
"Damn good theatre!"
-Talkin' Broadway

Recommended! "GO!"
"Dámaso Rodriguez tautly directs a fine cast."
"A worthy entry into the Falling Down genre."
-LA Weekly

"The outstanding cast delivers subtle, vibrant work!"
"The Furious Theater Company's production efficiently mines
all of the humor and drama from the piece under
Dámaso Rodriguez's confident direction"
"Pelfrey has a gift for oddball concepts and sardonic dialogue"
-Variety

"A brilliant little bulletin from the paranoia frontier!"
-LA City Beat

---